Today's Truth
"Do not conform to the pattern of this world, but be transformed by the renewing of your mind. Then you will be able to test and approve what God's will is—his good, pleasing and perfect will" (Romans 12:2 NIV).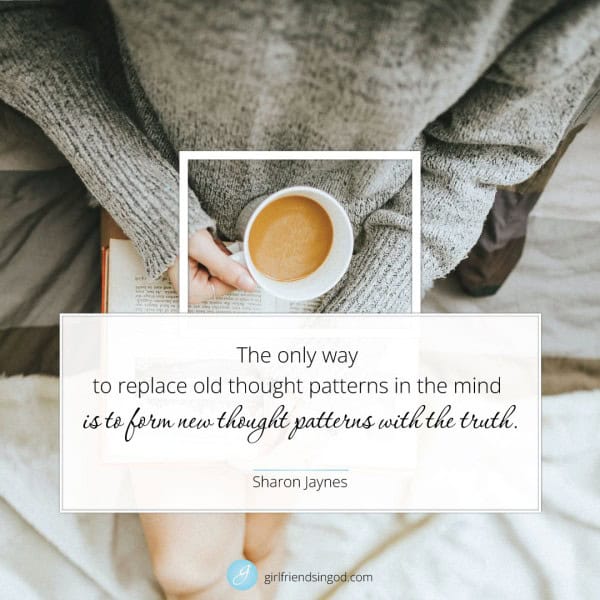 Friend to Friend
One day I was driving home from the beach in July Fourth holiday traffic. It was Southern muggy hot, and cars were a throng of metal on wheels. Everyone was going faster than the posted speed limit and I was trying to keep up. I was also young and distracted. Ok, here's the truth: I had just broken up with my boyfriend and was crying my eyes out.
At one point, I felt my front right tire slip off the asphalt and onto the gravel shoulder of the road. In a flood of panic, I heard the voice of my driver's ed teacher from four years earlier, "If you run off the road, do not, and I repeat, do not jerk your car back on the road. Slow down to a stop and then gently guide the car back onto the road."
My mind knew the rule. I was even repeating, "Do not jerk the car, do not jerk the car." Then I promptly jerked the car. I pulled the steering wheel to the left, jerked the car onto the road, and lost control. As if in slow motion, the car began a descent down an embankment. The weight of the car became unbalanced and began to roll down the embankment. When the car landed upside down at the bottom of the ravine, I was sitting on the ceiling of the passenger side. Amazingly, I crawled out of the car unharmed.
That's how powerful reflexes are. We can know what to do, but then suddenly do the opposite. When it comes to taming the tongue or changing bad habitual behavior, we may have some very powerful reflexes to overcome.
The Bible tells us that when we come to Christ, we are a new creation (2 Corinthians 5:17). However, no one pushes the delete button to erase the old habit patterns that have been formed over time. The Bible calls them old flesh patterns. They are like ruts in the brain that have been formed by years and years of thinking the same thoughts and repeating the same actions.
The only way to replace old thought patterns in the mind is to form new thought patterns with the truth. That comes with practice, training, and reprogramming our minds with the truth.
The Bible tells us, "Do not conform to the pattern of this world but be transformed by the renewing of your mind. Then you will be able to test and approve what God's will is—his good, pleasing and perfect will" (Romans 12:2). In the process, we will still make mistakes…old reflexes.
Shortly after Jesus' first miracle at the wedding of Cana, He traveled to Capernaum with His mother, brothers, and disciples. It was almost time for the Jewish Passover celebration, so Jesus went up to Jerusalem to worship. As He approached the temple, Jesus heard the bleating of sheep, smelled the stench of the cattle, and saw the haggling and exchanging of coins. The temple had become a free-for-all rather than a house of prayer.
"So he made a whip out of cords, and drove all from the temple area, both sheep and cattle; he scattered the coins of the money changers and overturned their tables. To those who sold doves he said, 'Get these out of here! How dare you turn my Father's house into a market!'" (John 2:15-16).
Yes, Jesus cleaned out the temple that day, but it wasn't long before the money changers began to creep back in with their wares. Three years later, during his last week of life on earth, Jesus came upon the unholy mess again. (See Matthew 21:12-13)
How did the messy mayhem of the temple happen the second time? I don't think it happened all at once. After Jesus cleared the temple initially, I suspect it stayed that way for a time. But one day, a money changer set up his table. Then another brought in a few birds, followed by a couple of sheep, and then here came a cow.
The next thing you know, the temple wasn't any different than it was before Jesus cleared it out and cleaned it up three years earlier. In three years, it had reverted back to an unholy mess.
And God whispers in my ear: "Do you not know that your bodies are temples of the Holy Spirit, who is in you, whom you have received from God? You are not your own" (1 Corinthians 6:19 NIV).
Sometimes I am that messy temple. I bet you are too.
Swept-clean sinful behavior, ungodly thoughts, jump-off-the-cliff emotions, and caustic words are itching to creep back in at all times. It is up to me (and to you) to keep the temple clean.
Perhaps you've had a Holy Spirit moment at some point in your life—a moment that caused you to make a major change in the words you speak. But for the moment to maintain momentum, we need to be constantly aware of our tendency to revert…to go back to the way we were. And remember, you are never on your own. God has given you the power of the Holy Spirit to help you every step of the way.
Let's Pray
Jesus, thank You for making me a new creation. Now, help my mind catch up to my new identity. Purify my lips. Keep watch over the door of my mouth. Show me when old habits start to creep back in and give me the wisdom to sweep them out.
In Jesus' Name, Amen.
Now It's Your Turn
What is one old habit, perhaps one you thought you'd left behind, that has crept back into your life? What is one reflex response you tend to exhibit that you know you need to change?
More from the Girlfriends
Sharon's best-selling book and Bible study guide, The Power of a Woman's Words: How the Words You Speak Shape the Lives of Others has been a favorite for women's Bible studies around the world. Get your copy today and begin to use your words to speak life to those around you! Tame that tongue! I know you can☺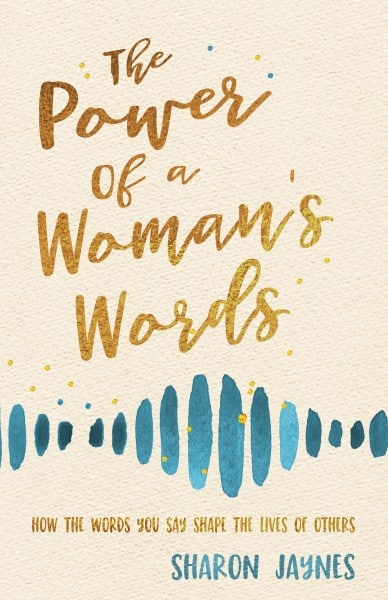 Looking for a life-changing Bible study? Click here to learn about my on-line Bible study on When You Don't Like Your Story: What if Your Worst Chapters Could Become Your Greatest Victories starting February 21.
© 2023 by Sharon Jaynes. All rights reserved
Did someone forward this devotional to you? Click here  to receive Girlfriends in God weekday devotions delivered directly to your inbox!