Today's Truth
His divine power has given us everything we need for a godly life through our knowledge of him who called us by his own glory and goodness (2 Peter 1:3 NIV).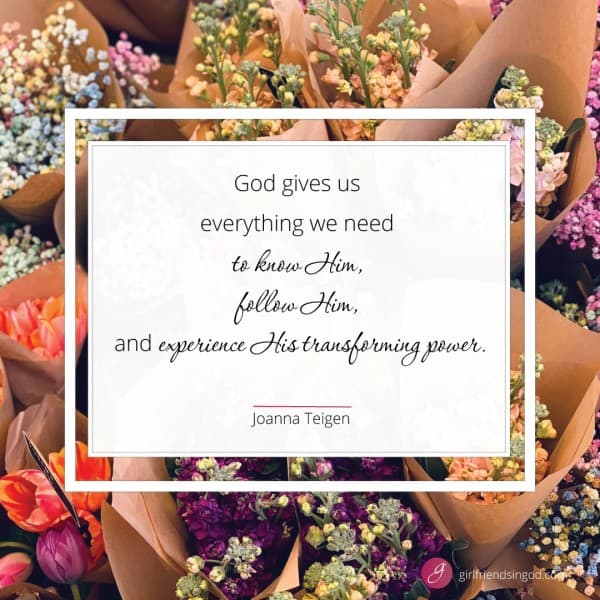 Friend to Friend
I recently stopped by my mother's house for a quick visit. As we chatted in her kitchen, she pointed out a shiny jar of gourmet pickles resting on the counter. "Send someone over!" she laughed. "I can't get the lid off the jar by myself!" I reached over and gave the lid a firm twist, but she was right. It was stuck so tight that nobody was having pickles that day!
Later in the week I ran to the store to pick up a few groceries. As the cashier rang up my yogurt, bread, and dog treats, I pulled my wallet from my purse. I unzipped the pocket and found an empty slot where my debit card should be. I rolled my eyes, knowing I'd left the card at home instead of placing it where it belonged. The funds in my bank account were of little use on that errand.
I'm sure you know this kind of frustration. You're accidentally locked out of your own house or car. With ticket in hand, you're bumped from your flight. You cuddle up with popcorn and a fuzzy blanket to watch a movie, but your Wi-Fi connection goes dead. You have ownership—yet no access—to what you want or need.
The Bible teaches an amazing truth: we are in possession of something infinitely better than what money can buy. 2 Peter 1:3 says God's divine power "has given us everything we need for a godly life." Not just a little bit or even a lot, but everything we need to know Him, follow Him, and experience His transforming power. You and I can be confident today in God's promises and love, since "He who did not spare his own Son, but gave him up for us all—how will he not also, along with him, graciously give us all things?" (Romans 8:32).
Yet for many of us, we struggle to access the "everything" God has already given. Our faith feels skimpy and weak. We're promised joy, but we still feel weary and defeated. We receive mercy and forgiveness, yet we're burdened by shame and regret. We have been set free from sin (Romans 6:18) and yet we slip back into the old, destructive patterns of our past. We feel spiritually stuck as doubt and discouragement set in. How do we take hold of "his very great and precious promises" that let us fully experience our life with God (2 Peter 1:4)?
First, we remember who we are as God's daughters. You and I have been called and adopted, and we were chosen "before the creation of the world to be holy and blameless in His sight" (Ephesians 1:4). We are secure for all time since no one will snatch us out of His hand (John 10:28). We are forgiven and redeemed, and God is working faithfully to make us like Jesus. You and I are the treasured possessions of the One whose love never fails and whose power has no equal. We are His!
Next, we put our belief into action. We live in light of who God says we are. Through His grace, we "say 'No' to ungodliness and worldly passions" and "live self-controlled, upright and godly lives in this present age" (Titus 2:12). We place our time, energy, and resources into God's hands so we can serve Him with it all. In our darkest days, we rely on His strength and wisdom. Our faith moves from our head to our hearts so God's love shapes all we say and do.
Finally, we draw near to God as our Source. We "pray continually" since we know God hears our cries for hope and help (1 Thessalonians 5:17). We immerse ourselves in the pages of the Word so it can renew our minds and help us know God more and more. At every opportunity, we pursue relationships with other believers who encourage us on our journey of faith. As we draw near to God, He will draw near to us with all the spiritual blessings we've been longing for.
Let's Pray
Dear Lord, how can I comprehend just how much You love me? Thank You for giving everything I need to know You and live as Your child. Refresh my faith in Your promises so I love You, depend on You, and obey You with all my heart. You are more than enough!
In Jesus' Name, Amen.
Now It's Your Turn
Which of God's gifts is the most difficult for you to access right now? Is it His peace, His wisdom, His purity or goodness, His love, or something else? How does it encourage your faith to know that God is the source of everything you need to follow Jesus?
More from the Girlfriends
Just as you want to take hold of every spiritual blessing from God, you're eager for your loved ones to unwrap His gifts as well. Joanna and her husband, Rob, created Powerful Prayers for Your Daughter to invite God's love and power to fill every part of your girl's life as she grows.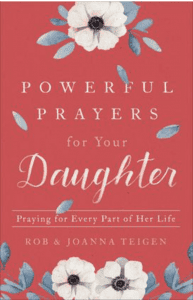 (As an Amazon Associate, Girlfriends in God earns A SMALL COMMISSION from qualifying purchases using this paid link.)
© 2022 by Joanna Teigen. All rights reserved.
Not many people know that Girlfriends in God relies on the generous support of Christians around the world. If you have benefited from our resources, would you kindly consider making a gift towards our work?  To make a donation please go to https://girlfriendsingod.com/donate/
Did someone forward this devotional to you? Click here  to receive Girlfriends in God weekday devotions delivered directly to your inbox!