Today's Truth
The LORD gives his people strength. The LORD blesses them with peace (Psalm 29:11 NLT).
Friend to Friend
I recall a holiday season when Mark and I braved a local shopping area for some last-minute gifts. We braced ourselves for big crowds,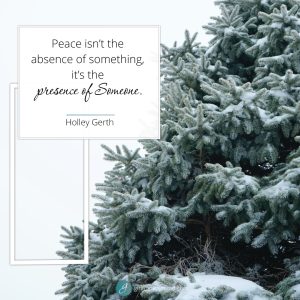 long lines, loud songs playing over store speakers, and irritable drivers fighting to get the last parking spot. When we walked through our door an hour later, I took a deep breath and thought, Peace at last.
In our culture, we tend to think of peace as the absence of what troubles us. The blaring music gets turned off. The crowd thins out. The pace of our life slows down. But when Mark and I went to church that night, our wise pastor, Mark Schatzman, talked about what God really means when He says He will give us peace.
The biblical word for peace is Shalom, and while it's difficult to translate into our language, it essentially means wholeness and well-being. Theologian Tim Keller says, "Shalom experienced is multidimensional, complete well-being—physical, psychological, social, and spiritual; it flows from all of one's relationships being put right—with God, within oneself, and with others."
What strikes me most when I read this is how often I settle for less than Shalom. I'm content with a shallow, surface-level peace. If I'm gut-honest, I even feel a bit nervous about the idea of Shalom. I'm a woman who knows how to work hard and fight harder. I'm used to my faith feeling like a battleground. If life is calm and things are good, I start wondering what's going to go wrong.
I tend to focus on the part of the gospel that is the cross. Yet sometimes in doing so, I forget that part of the purpose of the cross is to bring us Shalom.
The punishment that brought us peace was on him, and by his wounds we are healed (Isaiah 53:5 NIV).
The Bible starts with creation and Adam and Eve in the garden, a place of complete peace. It ends in heaven, also a place of complete peace.. It seems God is intent on seeing His people thrive, whatever it takes.
We will never experience Shalom fully in this world. But there's something comforting in knowing that God is always working to bring us closer to it until we're Home forever.
The LORD gives his people strength. The LORD blesses them with peace (Psalm 29:11 NLT).
We will go through hardship and suffering in this life. But peace is the place God has for us to dwell.
If we're in a season where life is happy, then that means we embrace it without fear or apology. We receive the gifts God is bestowing on us. We celebrate and savor every moment. We let the joy we feel now be a small preview of what we'll one day experience forever.
If we're in a season where life is hard and stressful, then that means we let Shalom be our hope. As Mark Schatzman said, "God makes peace out of our pieces." No matter how broken we feel now, we can trust one day we'll be whole and that all will be well.
Yes, I thought for so long that peace was the absence of something. I know now that it's the presence of Someone. A God who loves us. A God who is for us. A God who is making all things new, including me and you.
Let's Pray
Dear God, You don't just give me peace; You are my peace. Thank You that what You offer is so much deeper and greater than I often know. I ask that You give me Shalom so that no matter what my circumstances might be, I can know that all will be well, and I will be whole.
In Jesus' Name, Amen.
Now It's Your Turn 
How have you defined peace? How would you do so now, based on what you just read about the meaning of Shalom?
More from the Girlfriends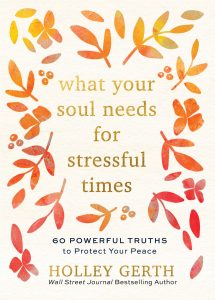 Do you want to live with more peace and less pressure, more calm and less chaos, more worship and less worry? If so, Holley Gerth's new devotional What Your Soul Needs for Stressful Times: 60 Powerful Truths to Protect Your Peace is for you and those you love. (It makes the perfect Christmas gift!)
(As an Amazon Associate, Girlfriends in God earns A SMALL COMMISSION from qualifying purchases using this paid link.)
© 2021 by Holley Gerth. All rights reserved.