Today's Truth
Let us then with confidence draw near to the throne of grace, that we may receive mercy and find grace to help in time of need (Hebrews 4:16 ESV).
Friend to Friend 
We crowded around the kitchen table with an important decision to make.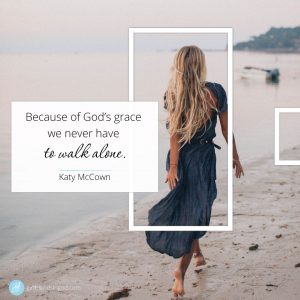 Just a few days before, my husband and I had given a Christmas gift to our children — 2 new puppies! Naming the first puppy was easy. The puppies joined our family on Christmas Eve, so we all agreed to name one puppy, Eve. The other girl, however, still needed a name.
Everyone at the table cast a vote. We started with eight names and narrowed it to four. After one more round of voting we landed on the name, Grace. At the time I didn't know how much I'd learn from this sweet girl and her name.
Grace likes to be near me and the family. One of our favorite things to do together is walk. There are some hills around our house that I walk often … on good days and especially on tough ones.
Several years ago when I heard the news of a friend's marriage falling apart, I walked the familiar hills. And Grace went with me.
A few years later when I found out about the diagnosis of some dear family members who may lose their vision, I walked the hills. And Grace went with me.
Last year, as my Daddy lived his last days on earth, I walked the hills. And Grace went with me.
And recently, when I received the news that my grandmother left for Heaven, I set off down that worn road again. And Grace went with me. She even waited on me when my pace was slower than hers.
Today's Truth tells us about a different kind of grace, "Let us then with confidence draw near to the throne of grace, that we may receive mercy and find grace to help in time of need" (Hebrews 4:16 ESV).
Whether you have a dog named Grace or not, the One True God offers us His grace through Jesus, Emmanuel, God with us. Because of God's grace we have unhindered access to the throne of God, and we can confidently come into His presence to receive His grace. It is always available to us.
Maybe grace is a word you're familiar with, but maybe you're like me and though you've known that word, you haven't always experienced or recognized the blessings of God's grace in your day-to-day life. Yes, God's grace saves us through faith in Jesus (Ephesians 2:10). But His grace doesn't end there. Because of God's grace we have hope, comfort and strength for today.
To help us connect God's grace to our daily lives let's look at more of what the Bible says about His grace:
God's grace costs us nothing, and it justifies us before a holy God (Romans 5:15, Titus 3:7).
By His grace God loves us and gives us eternal comfort and good hope (2 Thessalonians 2:16).
God's grace is sufficient for us, and He promises He will never leave us (2 Corinthians 12:9, Hebrews 13:5).
And like my girl Grace, who seemed to know every time I needed a friend on the road of life, God's grace strengthens us and helps us in our times of need (2 Timothy 2:1, Hebrews 4:16).
One translation of Hebrews 4:16 describes God's grace as "an appropriate blessing, coming just at the right moment" (AMP). God's grace is something that should make every day of our lives different. Why would we ever walk another step apart from God's lavish grace?
Whatever path you walk today I pray this helps you remember, God's grace goes with you.
Leave a comment and share: How does knowing God's grace goes with you through every challenge or circumstance change the way you walk your path today?
Let's Pray
Dear Lord, in this very moment we come boldly to the throne of Your grace to receive help. Thank You that because of Your grace we never have to walk alone. Help us be more aware of Your free gift of grace and its participation in every day of our lives. Let us experience the comfort, hope and help that comes through Your grace today.
In Jesus' Name, Amen.
Now It's Your Turn 
Look back at the bulleted list of truths about God's grace. Which one of these truths will you focus on today?
Look up one of the verses about the truth you chose. Write it on a notecard and place it somewhere you will see it often.
More from the Girlfriends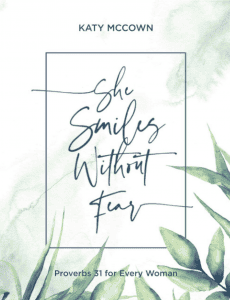 Katy's newest Bible study, She Smiles without Fear: Proverbs 31 for Every Woman, shows women how God's grace can lead us to trade our fear of the future for joy in the present. Click here to order your copy today!
© 2021 by Katy McCown. All rights reserved.