Today's Truth
When I said, "My foot is slipping," your unfailing love, Lord, supported me (Psalm 94:18, NIV).
Friend to Friend
I can fall with the best of them. Really. It's almost a spiritual gift for me.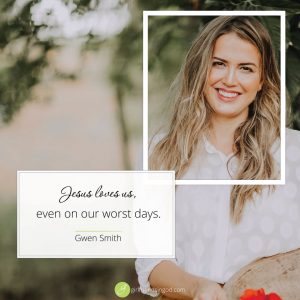 When I was in second grade, Mr. Traynor came once a week to take me out of Mrs. Bryan's classroom for an "extra phys-ed class." I loved getting out of bookwork to juggle bean bags and play fun games with Mr. Traynor in the gym, and I thought it was so cool that I had the privilege of extra playtime. Yay me.
Years later I found out that "Mr. Traynor time" was actually a special school program to help kids with under-developed coordination. Yay me. Ahem.
Back in those young, uncoordinated days of mine, my family vacationed at the South Jersey shore. We stayed just across the street from the boardwalk in Cape May and squeezed like sardines in a white Victorian beach house with my parents, siblings, grandparents, aunts, uncles, and cousins.
In the evenings, we'd walk up and down the boardwalk as a family, and one year I fell off two different times. Two. Fell about four feet down. Once onto the hood of a parked car. See? Gifted.
In Psalm 94, the psalmist laments the world's wickedness and asks God to do something about it. "Rise up,  Judge of the earth; pay back to the proud what they deserve. How long,Lord, will the wicked, how long will the wicked be jubilant (Psalm 94:2-3 NIV).
The psalmist is frustrated that the wicked around him are arrogant, boastful, oppressive, and murderous. He wonders if God hears, sees, and even cares about the impact of evil on those who love and serve Him. (v4-10)
He looks around … shaking his head and waving his hands in the air … upset with worldly wickedness but uplifted by the confidence he had in God's holy plan of judgement that will one day make all wrongs right.
He also looks within, acknowledges his own failures, and celebrates the compassionate love of God that reaches graciously to catch and correct the hands of his fallen children.
"When I said, 'My foot is slipping,' your love, O Lord, supported me." (Psalm 94:18) This verse in Psalm 94 makes the invisible truth of God's supportive, loyal love visible to my slippy-soul. Love is so much more powerful than I know. So much more present in God's heart for me than I realize. Thank you, Jesus!
God's love supports us when we slip.
And I know what it's like to slip. Not just on boardwalks. I know what it's like to slip by snapping at my husband or kids. By saying unkind words and thinking unholy thoughts. By prioritizing everyone and everything else above the Lord…
Yeah. I can fall with the best of them. I also realize that shame can blind us to the love that catches, lifts, and restores. It's so easy for us to wallow in the pits we fall into. But Jesus loves us, even on our worst days, and His grace reaches beyond our failures to lift us from slips, to bring joy to our souls, and to set our feet on the rock of His righteousness.
The prophet Jeremiah summed it up nicely this way. "The steadfast love of the Lord never ceases; his mercies never come to an end; they are new every morning; great is your faithfulness" (Lamentations 3:22-23 ESV).
Yay us.
Let's Pray
Dear Lord, I'm sorry for the times I've doubted the goodness of Your plans, the timing of Your responses and the interest You have in me. I'm sorry for the times I've doubted that You see and hear me. Help me to see Your intimate, unfailing love that picks me up when I fall, catches me when I slip, and calms me when I'm anxious. Thank You for promising that You will never reject Your people or forsake Your inheritance.
In Jesus' Name, Amen.
Now It's Your Turn 
When have you fallen and experienced the support of God's love? What did that encounter teach you? How can and should this memory influence your awareness of the power of God's love?
Read Psalm 94. Grab your journal and write out a prayer of response.
More from the Girlfriends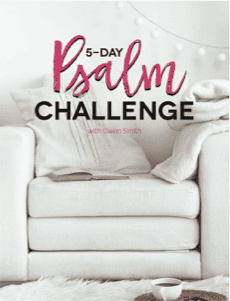 Are you ready to let God's love lift you higher? Reading the Bible helps you know Him better and trust Him more. If you'd like to read and study the Bible at your own pace and in your own space, this is the perfect way to get you started!
Get your FREE downloadable 5-Day Psalm Challenge now and enjoy studying the Bible in the comfort of your home, in a time frame that fits with your personal schedule.
© 2021 by Gwen Smith. All rights reserved.