Today's Truth
God is against the proud, but He gives grace to the humble (James 4:6, NCV).
Friend to Friend
I hate cancer! I have lost many loved ones to this dreaded disease and have come to despise its very existence. If only I felt the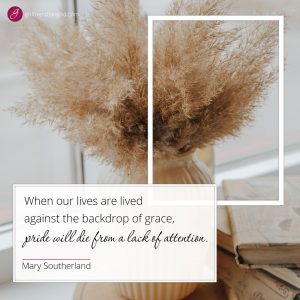 same way about spiritual cancer.
C.S. Lewis called pride a "spiritual cancer" that devours love and contentment. Pride is a sign of our own insecurity and feelings of inferiority. Pride and inferiority are actually opposite sides of the same coin, and both are sin, a preoccupation with self that leaves little room for God's spirit of humility.
We all struggle with pride, and must constantly battle the tendency to measure every circumstance against the narcissistic viewpoint of "What's in it for me?" Pride has no place in the life of a Christian. Pride steps between God and us. To think that God opposes prideful people is a strong and sobering statement that should send us all running to the place of humility.
The Bible says, "Pride leads to destruction; a proud attitude brings ruin. It is better to be humble and be with those who suffer than to share stolen property with the proud" (Proverbs 16:18-19).
I suspect a good dose of humility would cure many of our failing marriages, broken relationships and struggling friendships. How can we rid our lives of pride and prevent it from carving out a destructive stronghold in our lives? The answer is found in a passage of Scripture written by the apostle Paul and directed to the church in Rome.
"For by the grace given me I say to every one of you: Do not think of yourself more highly than you ought, but rather think of yourself with sober judgment, in accordance with the measure of faith God has given you" (Romans 12:3, NIV).
Paul certainly understood what it meant to struggle with pride. Before his encounter with Christ, Paul had been a man of great arrogance. After all, he was a power broker in the Roman government as well as a highly regarded and chief persecutor of anyone following Jesus Christ.
Paul had no idea what the road to Damascus held for him that day when God interrupted Paul's life with His blinding love. Everything changed. Paul became a humble man—the walking definition of a servant, delighting in his new role of striving to be last among the least. God no longer had to stand against Paul's pride. He gave Paul grace!
As James wrote, "God is against the proud, but He gives grace to the humble" (James 4:6, NCV).
Paul understood that he was a trophy of grace; that his heart had been captured by grace and his life completely transformed in the process. God says that in order to be strong we must choose weakness, and in order to be first, we must be content to be last.
Now here is an amazing truth! Grace is ours for the asking. Grace offers us the riches of God, at the expense of Jesus Christ and His death on the cross.
Pride's goal is to make us independent of God, duping us into believing that we are in control of our own fate and are able to call our own shots. Pride convinces us that we can play God, worshipping ourselves while erecting false idols shrouded in rebellion and sin. But when our lives are lived against the backdrop of grace, pride will die from a lack of attention.
Let's Pray
Lord, please forgive my arrogant heart. I am so sorry for the pride in my life. Today, I ask You to search my heart and destroy the strongholds of pride and ego. Give me the discernment to be honest and transparent before You and with others. I, too, am a trophy of grace. Help me to live like one.
In Jesus' Name, Amen.
Now It's Your Turn
Read the following verses and answer each question:
Psalm 10:4 (NIV) "In His pride the wicked does not seek Him; in all His thoughts there is no room for God." How does pride affect our relationship with God? Is this true in your life?
Proverbs 16:5 (NIV) "The LORD detests all the proud of heart. Be sure of this: They will not go unpunished." What is God's attitude toward those who are proud?
What decision do you need to make today in order to choose grace over pride?
More from the Girlfriends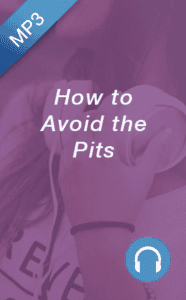 There are many roadblocks and pits in our lives. Pride is one of those pits. We must learn how to recognize and deal with each one. Mary's MP3, How to Avoid the Pits, will help you do just that.
Check out Mary's blog! Sign up today and receive a FREE MP3 download of "Strength For The Storm." Just click here.
© 2021 by Mary Southerland. All rights reserved.