Today's Truth
But Jesus spoke to them at once. "Don't be afraid," he said. "Take courage. I am here" (Matthew 14:27 NLT).
Friend to Friend
During a Monday morning planning meeting, I was given two choices: pet a tarantula or jump out of an airplane. I picked jumping out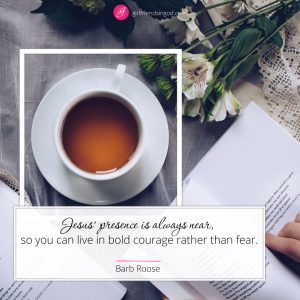 of an airplane because I am that afraid of spiders! Which one would you choose?
The next morning, I drove across my home state with two co-workers to go skydiving. As I passed the highway exit near my hometown, I considered giving my parents a call. However, wisdom, or maybe self-preservation, prevailed. I figured that if I didn't die skydiving, my mother would surely kill me to keep me from jumping out of the plane.
After I arrived, the training staff taught us the basics of how to jump and how parachutes worked. I appreciated the information; however, thousands of nervous butterflies were skydiving in my stomach. It was knowing that my experienced jump instructor would be present and tethered to me during the jump that made the difference with my anxiety.
In Matthew 14:27, Jesus reminds the disciples of His presence in perilous circumstances. Shortly after feeding 5,000 men and their families, Jesus sent the disciples across the lake to wait for Him. Even though the disciples knew how to manage the boat, that didn't take away their fear when a fierce storm blew across the lake. The disciples were in trouble and in Mark's account, he wrote that the disciples were rowing hard and struggling against the wind and waves (Mark 6:48).
Are you "rowing hard and struggling" in one of life's storms? It's easy to panic when you're doing all that you can and you still fear that all will be lost. Perhaps you're facing a parenting challenge and no matter what you've learned from the therapists or books, you're still pacing the floor at night. Maybe you've been diagnosed with a life-changing illness and while you've got treatment plans and expert care, the waves of grief and uncertainty pummel you day and night. Not only do you feel the fear, but it's exhausting, isn't it?
Jesus speaks eight, powerful and practical words to the disciples that apply to you today, no matter what you're facing: "Don't be afraid. Take courage. I am here."
Notice how Jesus didn't tell them to steer the boat differently. Furthermore, He didn't criticize them for being afraid. In their panic, Jesus knew that the only effective measure was to show up with his calming presence. Jesus called the disciples to take their eyes off the storm and focus on Him and experience His peace in the midst of the storm. An interesting note, as the story continued to unfold, Jesus invites Peter to walk on water and yet, the strong winds and waves continue. Yet, in Jesus' presence, Peter had the courage to step out and walk on water in the midst of the storm.
Today, you can be encouraged! Jesus' presence is always near, so you can live in bold courage rather than fear. Even as the circumstances of your life whip and whirl around you, courageously do whatever God has called you to do. He is right with you!
When the tiny crop plane reached 10,000 feet over the jump point, my instructor tethered his jumpsuit to mine and opened the door. The loud rush of cold wind filled my ears, but I heard his voice in the wind: "I'm right here." Even though we would free-fall at 120 mph back toward earth, I felt the intensity of the fall, but never the fear because my instructor was near.
What are those waves named in your life? Imagine yourself sitting in a boat and picture Jesus walking toward you saying, "Don't be afraid. Take courage. I am here." Even if you can't see Him in your difficult moment, He is near to you today.
Let's Pray
God, I am grateful that I can face the storms of life with peace and courage because Your presence is always with me. Whisper Jesus' words to my heart and soul today whenever I focus too much on the waves of fear, uncertainty or stressful circumstances. Thank You that I am never alone!
In Jesus' Name, Amen.
Now It's Your Turn
What are the struggles in your life that are wearing you out?
As you picture Jesus saying Today's Truth to you, what else do you think that He's saying to encourage you in your circumstances?
More from the Girlfriends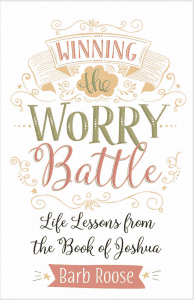 Have you ever tried to fight worry with faith and felt you were losing the battle? Check out Barb's Bible study, Joshua: Winning the Worry Battle. In this six-week study on the book of Joshua, you'll learn how to fight in faith and scripture-based new tools to overcome your daily struggles and the bigger battles of fear that we all face!  (Leaders' guide and teaching DVD available separately)
(As an Amazon Associate, Girlfriends in God earns A SMALL COMMISSION from qualifying purchases using this paid link.)
©2022 by Barb Roose. All rights reserved.