Today's Truth
"As the Father has loved me, so have I loved you. Now remain in my love" (John 15:9 NIV).
Friend to Friend
I pulled up to the curb at the terminal, gave my husband a quick kiss, and watched him hustle out the door for yet another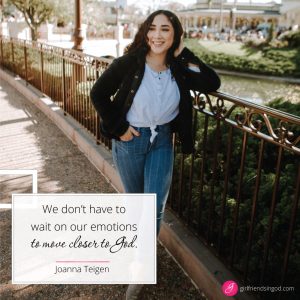 business trip. Later that night I was too exhausted from chores, motherhood, and my part-time job to notice I slept alone.
The next Sunday, I eased myself into a comfy chair to talk and pray with my church small group. An ordinary question of, "How are you doing with Rob away?" sent me into a sudden outburst of tears.
"I'm fine," I cried, "and that's the problem! He's gone so much that it feels normal now. We're so used to managing our lives apart, it's like we don't even need each other anymore."
Gone were the love notes and tender phone calls each night. Now, a few texts were the only connection we shared while apart. We had become independent, distant, and lonely. Without taking significant steps to move toward each other, our marriage was in trouble.
If I'm honest, I've experienced that same detachment from God. Perhaps you, too, know what it's like to feel spiritually "flat." Our problems feel overwhelming and hopeless. We lose interest in the Bible. Instead of praying, our needs and praises go unspoken. Weekend trips to the farmer's market hold more appeal than a worship service. We lose our battles with temptation and grow self-absorbed instead of servant hearted. The signs are clear: we need to rekindle our love for Jesus.
How do we move from apathy to heartfelt devotion? First, we put facts over feelings. God's love is constant, and He never leaves our side. He calls us to abide with Him whether we feel passionate or bored, confident or uncertain. "As the Father has loved me, so have I loved you. Now remain in my love" (John 15:9). Next, we follow the paths God created to lead us to himself. We can pray to Him every hour of the day and night, knowing that "You, Lord, hear the desire of the afflicted; you encourage them, and you listen to their cry," (Psalm 10:17 NIV). By the intentional habit of giving Him our thanks, needs and fears, and confessions, we experience the moment-by-moment closeness we're longing for.
Just as we desire to be known and loved, God wants us to know Him too. He reveals Himself vividly through His Word. As we read its pages, He shares comfort and power to heal our hurts. The Bible gives wise, bravery-boosting guidance for our plans and decisions. We find strength for today and hope for the future. As we feast daily on the scriptures, our appetite for His words will grow and grow.
God also knows that worshiping with others will keep the fires of faith burning bright. Together, we experience His presence in a powerful way: "For where two or three gather in my name, there am I with them" (Matthew 18:20 NIV). In community we find encouragement to trust God and follow Him faithfully side by side. We grow in awe and love by taking a front-row seat to His work in the lives of His people.
Yet even as we build these habits, it's possible to go through the motions and still feel distant from God. We need more than spiritual disciplines—we need new hearts! Today, let's examine our attitudes and choices so we can uproot any sin taking hold in our lives. Are we stuck in bitterness or shame? Has painful suffering worn away our faith in His love? Does pride make us go it alone? God stands ready to create a pure heart and give us a willing spirit right now (Psalm 51:10,12).
Let's Pray
Lord, You never let me go. Yet I'm easily discouraged, distracted, and prone to wander far from You. Light a fire in my spirit so I love You with all my heart, soul, mind, and strength (Mark 12:30). Open my ears to hear Your voice. Energize me to pray and dig deep in Your Word. Fold me into the life of Your church family. Be my greatest joy and hope as I abide in You.
In Jesus' Name, Amen.
Now It's Your Turn
What is one action step you could take today to move closer to God?
Which spiritual practice is the most difficult to weave into your routine right now? Mark a specific time in your planner when you will connect with God in that way.
More from the Girlfriends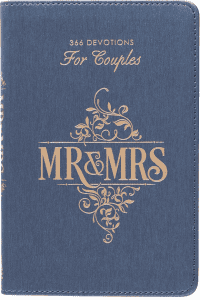 Do you feel anxious or alone in a difficult season of life? Nothing grows peace and closeness like meditating on God's Word and lifting our hearts together in prayer.
Joanna's daily devotional, co-authored with Rob Teigen, will guide you to a deeper intimacy with God and each other. Let Mr. and Mrs. 366 Devotions for Couples rekindle your love and faith today.
© 2021 by Joanna Teigen. All rights reserved.
(As an Amazon Associate, Girlfriends in God earns a small commission from qualifying purchases using this paid link.)