Today's Truth
He stilled the storm to a whisper; the waves of the sea were hushed (Psalm 107:29 NIV).
Friend to Friend
"Is there anything else you need?" the waitress asked. I thought to myself, "Lady, you have no idea."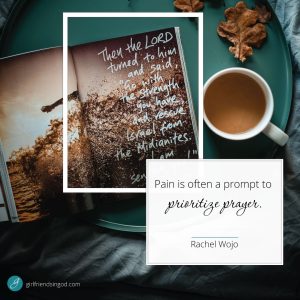 Every part of me screamed, "YES! I have so many needs!" But instead, I answered, "More coffee, please."
Have you been there? When the storms of life beat over our heads, our hearts grow anxious against the waves. Thoughts race in competition with truth; worry weasels its way in. The needs are high. We want safety. We need protection and provision.
Psalm 107 unfolds the God stories of various people groups and explains how the Lord transformed their pain into purpose. Each group of people exhibits a character flaw that reveals why their misery came upon them until we arrive at verse 23. Unlike the previous groups of wanderers, prisoners, and fools, this group of sea captains draws my attention. They were ordinary people going about a typical day, workers performing the tasks they were trained and called to do. I imagine it was a great day to be a fishing entrepreneur since the psalmist shares that "They saw the works of the Lord, his wonderful deeds in the deep" (Psalm 107:24). Sign me up for that!
But then, God spoke to the waves and whipped a storm into shape. Suddenly, the sea captains weren't so fond of the sea in the middle of this fabulous day of dolphin watching and full nets. The perilous heights and depths of the ocean melted their courage. "They reeled and staggered like drunkards; they were at their wits' end" (Psalm 107:27).
The psalmist paints quite the picture of what often happens when interruptions slam into our happy. "At their wits' end" describes that they had exhausted all their knowledge and didn't know what else to do. The situation was entirely outside their control.
Thankfully, the story doesn't end there. The sea captains did what each of the heroes in Psalm 107 did; they cried out to the Lord in their trouble. Four times in one chapter, the psalmist echoes the words, "Then they cried out to the Lord in their trouble." Four times!
Pain is often a prompt to prioritize prayer. As I read this repetition, the Spirit whispers to my heart, "Follow their example." When life spins out of control, and I'm at my wits' end, I echo the cries of Psalm 107. When the waves are at their highest, my cry is at the loudest. "Lord, save me. You have done it before; You can do it again. I trust in You."
Thankfully the storms don't last forever. "He stilled the storm to a whisper; the waves of the sea were hushed. They were glad when it grew calm, and he guided them to their desired haven" (Psalm 107:29-30 NIV). The storm is not your final destination; God longs to be your calm.
If you struggle to find the words to pray, perhaps you could begin with:
Lord, more calm, please.
I'm so grateful His whisper to the waves stills the tempests of our hearts. Whether a mental or verbal call to the Lord for help, prayer reminds us that the storm is not bigger than our God.
Let's Pray
Dear Father, I cry out to You amid the storm. It's easy to rely on myself when I want to remember to depend on You. Be my calm amid chaos. May Your peace be the ruler of my heart and mind.
In Jesus' Name, Amen.
Now It's Your Turn 
How have you learned to cry out to God in life's storms? What have you discovered as a result?
Share in the comments! 
More from the Girlfriends
Rachel's Beautiful 31 Days of Prayers for the Heart prayer cards provide prayers to help you cry out to God.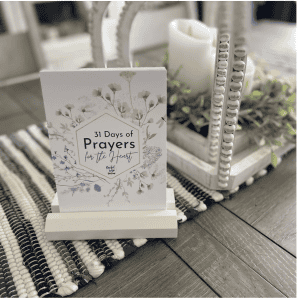 "These cards are spot on when I can't find the words."—Savannah. And you'll also enjoy Rachel's free ebook, "Prayers the Calming Collection," available at rachelwojo.com.
© 2022 by Rachel Wojo. All rights reserved.
Did someone forward this devotional to you? Click here  to receive Girlfriends in God weekday devotions delivered directly to your inbox!