Today's Truth
If it is possible, as far as it depends on you, live at peace with everyone (Romans 12:18, NLT).
Friend to Friend
One day, I discovered that one of my favorite hoop earrings was missing. It was a pair that I wore daily because they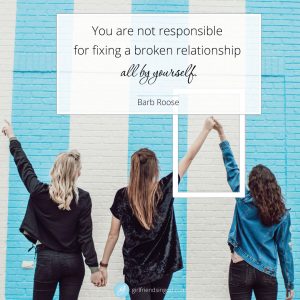 matched all of my outfits. I searched my room while wondering when the earring might have fallen out.
I held onto the remaining hoop for months in hopes that the missing hoop might turn up. While I had other earrings, that particular pair was important to me. I hated looking at that lonely earring in my jewelry box. I couldn't help but think of how much I missed wearing them.
The loss reminded me of other things I've lost. If you've ever experienced the loss of a friendship or a fallout with a family member, it's hard. Chances are, there are lingering reminders they are no longer a part of it. Now you feel like the remaining earring of a once wonderful pair and you hate the gaping space where that connection and that person used to be.
One of the most painful aspects of a broken relationship is that you can't make someone work things out with you. While forgiveness is an individual act of faith and obedience, reconciliation requires everyone involved to get engaged in the process. What do you do when despite all of your phone calls, prayers and pleas nothing happens? In that empty space where that person used to be, you're left with memories, questions and a lot of pain.
Within the wisdom of Today's Truth in Romans 12:18 rests a few practical principles that define how God helps you to live and learn to let go of a broken relationship so that you can keep walking in peace, even if for now, you're walking alone.
First, the opening phrase "if it is possible" implies that there will be times when reconciliation just isn't possible. Just as Jesus had enemies and people who were out to hurt him, you may be dealing with someone who behaved badly. Even if you miss their presence in your life, you know that they aren't safe until they repent and or get help. You have permission to stay away from them, even if other well-meaning people try to guilt you into doing otherwise.
Second, "as far as it depends on you" means that you can only do so much to repair a broken relationship. You can nag someone, constantly text them or even guilt them to sitting down and talking it out, but would your control-loving behaviors create a healthy beginning toward healing a broken relationship? Definitely not. The takeaway here is that God releases you from being wholly responsible for reconciliation. You are not responsible for fixing a broken relationship all by yourself.
Finally, "live at peace with everyone" means that you shouldn't stir the pot to keep the conflict going. When our feelings have been hurt, we tend to push our hurt toward others. That doesn't bring people, only more pain and conflict. Surrender is your only path to peace. No matter who is at fault, God is calling you to accept the painful situation as it is and leave it in His hands. When you live at peace, you experience the blessing and hope of God's promises no matter the outcome of that situation. Don't let that broken relationship steal your blessing!
In the meantime, keep praying for God's hand in healing and timing. While reconciliation is always God's goal, your responsibility is to forgive and be ready IF reconciliation is an opportunity in the future.
Let's Pray
God, it's so painful not having (name of person/people) ________________________ as part of my life. I know it's not my responsibility to fix our relationship all by myself, but I need forgive (if needed) and be ready for the day that reconciliation may occur.
In Jesus' Name, Amen.
Now It's Your Turn
Dealing with broken relationships are tough! Do you think that you might experience more peace and less pain if you let go of a broken relationship and surrendered it to God?
Hurt people tend to hurt people. In your pain, are there "stir the pot" behaviors that you need to stop, such as gossip, unkind words or initiating arguments?
Which aspect of Romans 12:18 do you need to apply to your broken relationship?
More from the Girlfriends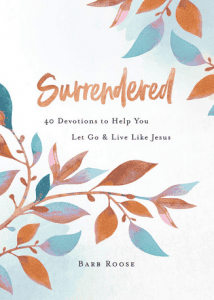 Today's content is from Barb's new devotional book, Surrendered: 40 Days to Help You Let Go and Live Like Jesus. This 40-day devotional invites you to let go of trying to control others or outcomes and learn how to live like Jesus. Learn how to trust God's power, presence, promises and provision for your life so that you experience God's peace no matter what's happening in your life.
© 2021 by Barb Roose. All rights reserved.