Today's Truth
Be on your guard; stand firm in the faith; be courageous; be strong (1 Corinthians 16:13, NIV).
Friend to Friend
I thought I was so Godly, so courageous and strong … until we decided to move. If you want to measure your faith,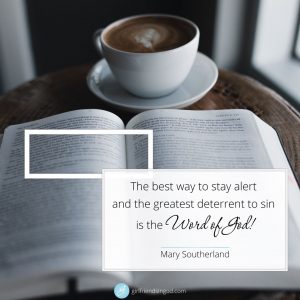 just decide to pack up everything you own … and move.
And if you really want to test the strength of your faith, decide to basically gut the house into which you are moving. Yep! That ought to do it!
Paint. I know a fresh coat of paint can make old walls dance with new life, but painting is also messy, time-consuming, and the source of total chaos. Icky drop cloths are sprawled everywhere, paint trays that are guaranteed not to spill … until they do … must be lugged from room to room. And don't get me started on the whole taping thing.
New carpet. New carpet is a beautiful thing … unless the carpet installers somehow got the impression we didn't want said carpet in the hallway. Really? And of course, they had to order more carpet.
The 20-year-old appliances had to be replaced, but we found a sweet deal on an appliance bundle. However, when all of the appliances came, there was no refrigerator. When the refrigerator finally came three weeks later, it was an inch too tall for the space my husband had carefully measured. Dan and a friend took down and trimmed the cabinet above the refrigerator … and the refrigerator finally fit.
We needed a new kitchen sink. The first one delivered was the wrong color. The second one had a crack in it. The third one had a side that was in pieces. When the fourth one came, I hid in my study until the plumbers installed it and assured me all was well.
I wish I could tell you that I handled every glitch, mistake, and hiccup in this move with a sense of humor and a good attitude, but I didn't. I could blame it on the fact that I was tired and in pain because I was.
I have Scoliosis, degenerative disc disease, and arthritis in my spine, which accounts for the severe back pain. I was also exhausted from ministry.
I could justify my negative attitude toward people who did not do what they said they would do. But God doesn't.
I moaned and complained at times like I was being persecuted in some way. How absurd! I was inconvenienced … and that is a far cry from being persecuted. And the Holy Spirit will not let me off the hook at all on this one.
The bottom line is this: I need to refocus and adjust my perspective. I need to be alert so I can stand firm – so I can be courageous and strong. Do you?
The Bible says, "Be on your guard; stand firm in the faith; be courageous; be strong," (1 Corinthians 16:13, NIV).
"Alert" literally means "to stay on guard" or "to keep watch." Our Father wants us to stay alert and always be on guard! It doesn't matter how long we have known Him; we must always be prepared to guard against sin, knowing we will face temptation. The best way to stay alert and the greatest deterrent to sin is the Word of God!
David wrote, "I have hidden Your word in my heart that I might not sin against You," (Psalm 119:11, NIV).
When Jesus went into the wilderness and was tempted, He won the battle of temptation using the Word of God. Every time Satan tempted Him, Jesus responded with scripture. We need to do the same. The best way to prepare for temptation and stay alert is by knowing the Word of God.
Join me in a new commitment to be alert – to stand firm in our faith with a chosen courage and God's strength at work in our lives.
Let's Pray
Father, please forgive me for my complaining spirit about things that simply do not matter. Give me an eternal perspective. Help me focus on what really does matter. I want to be alert and stand firm in my faith so that when the enemy attacks, I am ready.
In Jesus' Name, Amen.
Now It's Your Turn 
What is your attitude about the difficult situations in your life?
Are you standing firm when the tough times come? Why or why not?
More from the Girlfriends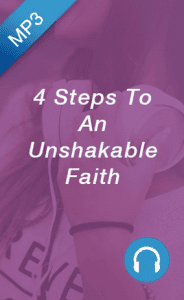 To live a successful life requires an unshakable faith. In Mary's MP3 download,
4 Steps to an Unshakable Faith, she shares four steps we can take to experience the kind of faith that will see us through every storm. Don't miss this powerful message!
Check out Mary's blog! Sign up today and receive a FREE MP3 download of "Strength For The Storm." Just click here.
© 2021 by Mary Southerland. All rights reserved.