Today's Truth
The LORD directs the steps of the godly. He delights in every detail of their lives (Psalm 37:23 NLT).
Friend to Friend
As we headed back to the barn after an equine-assisted coaching session, I turned toward my young client and her family and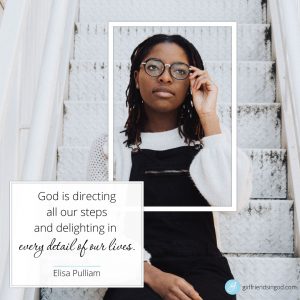 invited them to do a simple exercise with me to become aware of how the body and brain respond to feeling connected. Lining up shoulder to shoulder, I instructed them to all step forward with their right foot on a count of three and to pay attention to each other's movement so that we could walk in step together.
Maybe you can imagine what this feels like as you experience the rhythm and cadence of striding together on a walk with a friend. The energy rises, like the thrill of a marching band coming down Main Street at the Memorial Day parade or the roar of the crowd chanting DE-FENSE at a tie-breaking basketball game. Maybe a tribal dance as a part of celebration or time of mourning is more familiar to you, as the community comes together for renewed connection.
There is simply something profound about movement together and it is not an accident. God wired intricate parts of our brain to come alive through both movement and connection. Taking that step forward, mindful of rhythm and purpose, shifts us from inward isolation to an outward awareness.
When we walk in step together, we see each other afresh. We become in sync emotionally and physically. And that, in turn, makes us feel seen and known in a sacred way.
Imagine now, instead of walking side-by-side with another human, you are shoulder-to-shoulder with the Lord. Maybe you can picture God walking with you as He did Enoch and Noah. Or maybe you feel more like the two followers of Jesus on the road to Emmaus, walking along without recognizing that Jesus appeared alongside you (Luke 24:13-16).
Another way that Jesus illustrated walking side by side with you and me is with the picture of two oxen yoked together. In Jesus' day, an older, more experienced ox was yoked to a younger less experienced ox. The younger one had no choice but to walk in sync with the older. In doing so, it learned how the plowing was done. I wondered if that young ox would resist to try to go slower or pull forward to try and go faster…just like you and I might do. But when we walk yoked to Jesus, keeping in step with Him, we learn how life is done.
The thought of a yoke might seem harsh, but Jesus assures us, "Take my yoke upon you and learn from me, for I am gentle and humble in heart, and you will find rest for your souls. For my yoke is easy and my burden is light" (Matthew 11:29-30 NIV).
How often are we unaware of the presence of God by our side as we take each step forward on this journey to eternity? Yet we know from the Word that He is deeply concerned about every single step we take.
The Lord directs the steps of the godly. He delights in every detail of their lives. (Psalm 37:23 NLT )
Yes, God is directing all our steps and delighting in every detail of our lives.
As the director of our steps, it may feel like God is more like a coach on the sidelines calling the plays or a conductor in front of the symphony cueing the musicians to play. But what if we also saw our Heavenly Father's sovereign hand stretching out before us, lovingly inviting us to take that next step in stride with our Savior? Imagine the powerful connection we would feel with the Lord walking by His side?
Let's Pray
Dear Lord, thank You for directing our steps and delighting in every detail of our lives. Please forgive us when we forsake to notice Your presence in our lives. Help us to turn to You, look for Your hand, take hold of it, and walk in step with You.
In Jesus' Name, Amen.
Now It's Your Turn
What does it look like for you to walk in step with God compared to how you normally go about your day?
How might you remind yourself to pause throughout to notice God's presence?
When you think of God delighting in every detail of your lives, what do you think makes Him smile the most?
More from the Girlfriends
Feel like you're walking alone? Explore God's presence in your life with Elisa Pulliam as your coach! She is passionate about helping you discover God's directing of your steps and delight in your life as you seek to align your life with His best! Grab a Discovery Session with Elisa to find out if online coaching or equine-assisted coaching would be beneficial to you!
© 2021 by Elisa Pulliam. All rights reserved.