Today's Truth
Therefore, since we are surrounded by such a great cloud of witnesses, let us throw off everything that hinders and the sin that so easily entangles. And let us run with perseverance the race marked out for us, fixing our eyes on Jesus, the pioneer and perfecter of faith (Hebrews 12:1-2 NIV).
Friend to Friend
As I sat in front of my closet for the umpteenth time to figure out why it was always such a hot mess, I looked at the floor and realized I had created a clothes and shoe salad (with a pinch of books and maga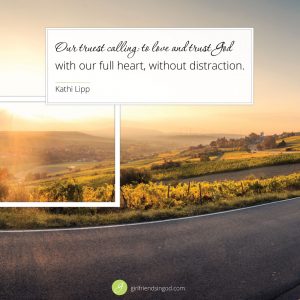 zines thrown in for good measure). It was depressing to face every morning as I was trying to get out the door.
Has that ever happened to you? Being hindered by something as simple as getting dressed?
It wasn't because I didn't have clothes. It's because, in my mind, I didn't have the right clothes — a clean outfit, put together and accessorized.
But my real problem?
I had too much stuff.
With too many things hanging (or let's be honest, laying) in my closet, I was too overwhelmed to make any decisions.
Sadly, it wasn't just my closet. My office was a mess, my bathroom overflowed, and my kitchen brimmed with a mixture of too much.
When Paul the Apostle says, "Therefore, since we are surrounded by such a great cloud of witnesses, let us throw off everything that hinders and the sin that so easily entangles. And let us run with perseverance the race marked out for us," (Hebrews 12:1) it's easy to think of the "big sins" as the things that hinder us. But for me? The entanglement was my yoga pants and my Hamilton sweatshirt at the bottom of my walk-in.
It's not a surprise to God that our stuff has such a hold on us. The New Testament is packed with references to letting go of money and possessions so we can fully follow Christ.
So how do we throw off clutter?
Put possessions in their proper place.
If you are spending too much time shopping for, cleaning, organizing, finding, and managing your stuff, it's time to do a deep dive and learn to live lighter. Right-sizing your possessions gives you the space, time, energy and money to fully pursue God and His purpose without your things weighing you down.
Recognize when you are entangled.
Are you stressed living in your space because of too much stuff? Are your finances in a mess because you love new things? Are you exhausted at night because you've spent your evening just moving things around? It's time to get serious about your problem.
One thing I love to do a couple of times a year is challenge myself to give one hundred "things" in my house to a charity. If you're thinking, "Wow, one hundred things? I would never have that much stuff," go look in your closet for fifteen minutes and see what you can come up with. (Don't worry, I'll wait.)
Between books I've read, clothes I've grown tired of, and decorations that would look better in someone else's house, I could easily come up with one hundred items in a couple of days.
Trust God with your giveaways.
Those of us who love stuff are incredibly generous – to a point. We love having the right "thing" for someone we love. It gets harder when we are donating blindly. We want to know our stuff is going to a good home, it will be used well, and someone will appreciate the sacrifice.
Let's look at it this way: that ill-fitting shirt you bought? Instead of a mistake, maybe it was intended for someone at your local women's shelter. And you are the conduit to getting it to her.
I know I can trust God with mistakes I've made in my past, but can I trust God with the mistakes I've made in my closet? I think I can.
Every time we decide to let go of something no longer serving us, we are making room for the growth God planned for our lives.
It's time to stop being hindered by the things that keep us from our truest calling: to love and trust God with our full heart, without distraction.
Let's Pray
Heavenly Father, I want to only cling to You, and never earthly things. Help me daily to put my possessions in the right position and keep You first.
In Jesus' Name, Amen.
Now It's Your Turn
Which things could you give away to live lighter in your own home? Click on the comment button and share 3 things.
What need do you see in someone else that could be met by something you already have?
More from the Girlfriends
Are you ready to live in a house you love coming home to?
To get started, download Kathi's  FREE Clutter Free Kit and Quick Start Video Kit!
Not only will you start to reclaim your home, but you will gain the ability to put your possessions in their proper position.
© 2021 by Kathi Lipp. All rights reserved.