Today's Truth
Therefore, everyone who hears these words of mine and puts them into practice is like a wise man who built his house on the rock (Matthew 7:24 NIV).
Friend to Friend
Bones are important. Bones are the framework of our body. I was recently reminded just how important good bones are to our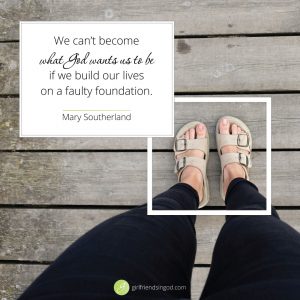 overall health when I had to have shoulder replacement surgery. Bone spurs caused by arthritis were pushing the shoulder bone out of its socket. I know. It is as painful as it sounds.
The surgery was successful and it was time for my two-week follow-up appointment. The doctor came in, followed by his assistant and an intern who were excitedly talking about great bones. I didn't pay much attention until the assistant put my x-rays up and said, "This is the patient we were all talking about. Her bones are amazing!" Seeing the look of surprise on my face, the doctor smiled and said, "It's true. Your bones are solid and strong."
Bones are important in construction as well. Our son is a master carpenter who loves to take what most people would describe as a mess and turn it into something beautiful. Jered wanted to show me one house in particular before he started working on it. When we pulled up to his exciting new project, my first thought was, "It should be bulldozed or burned to the ground."
Jered saw the look on my face and said, "Mom, I know it looks like a disaster now but just follow me." As we walked around the outside of the house, Jered pointed out, "The foundation is good." We went back inside, and he proceeded to point out all the solid beams throughout the house. "This house has good bones, Mom. So, I will use those and the solid foundation to build a house around them." And he did. The finished result was amazing!
Good bones are important. Solid foundations are essential. Jesus thought so and illustrated this no-nonsense parable:
"Therefore, everyone who hears these words of mine and puts them into practice is like a wise man who built his house on the rock. It rained hard, the floods came, and the winds blew and hit that house. But it did not fall, because it was built on rock. Everyone who hears my words and does not obey them is like a foolish man who built his house on sand. It rained hard, the floods came, and the winds blew and hit that house, and it fell with a big crash." (Matthew 7:24-27 NIV).
Most of us hear words of truth fairly often – in a worship service or a small group bible study, on a Christian radio station, or while participating in a Zoom bible conference. Matthew says it is not enough to just hear these words of truth, we must put them into practice if we want a solid life foundation. Truth is for today!
We can't become what God wants us to be if we build our lives on a faulty foundation. The world offers a lot of different options for what should be our groundwork.
Popular culture, tradition, our own abilities, and emotions are all possible foundations on which to build a life. But all of them will ultimately fail. They are all sand. When the storms of life hit, the only solid foundation we can count on is God's Word. It is eternal, unchanging, and promises us a future and a hope.
"For I know the plans I have for you, says the Lord. They are plans for good and not for disaster, to give you a future and a hope" (Jeremiah 29:11 NLT).
We may not always understand or even like God's plan for our lives. I know there are days when the will of God seems completely wrong, and we just don't get it. Every moment is pregnant with darkness and our hearts are numb, paralyzed by fear and doubt.
It is in those shadowed moments that we must choose to trust the Plan Maker even though our faith is small, and we cannot understand the plan. One day, every one of our question marks will be yanked into exclamation points as we see that high plan as He sees it – perfect.
Let's Pray
Father, please forgive me when I try to do life in my own strength and power. Thank You for the power of Your Word. Help me learn to turn to You first when the storms of life hit. I choose to make You the eternal foundation of my life.
In Jesus' Name, Amen.
Now It's Your Turn
What distractions in your life keep you from fully building your foundation on God's Word?
On what have you built the foundation of your life?
How is it holding up?
More from the Girlfriends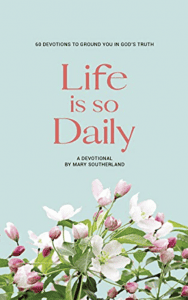 Need help? Check out Mary's new devotion books, Life is So Daily Volumes 1 and 2. We pray these devotions will encourage and help you build a solid foundation of faith.
Connect with Mary on Facebook or through email at mary@marysoutherland.com.
© 2021 by Mary Southerland. All rights reserved.