Today's Truth
You will not fear the terror of night, nor the arrow that flies by day (Psalm 91:5, NIV).
Friend to Friend
Basketball is a game of hustle, teamwork and strategy, all of which I love. My introduction to the sport, however, was a good bit lame and un-strategic. Not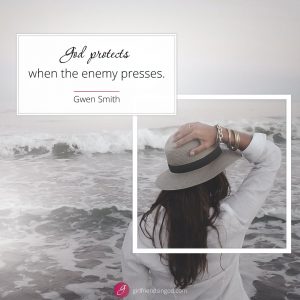 sure why, but my parents signed me up for a rec league team in the fifth grade where I was the only girl on my team. Possibly the only girl in the league.
Now, before you go waving your girl-power pompoms and breaking out in resounding choruses of R-E-S-P-E-C-T, let me assure you it was neither pretty, powerful nor pompom worthy, because at that point I knew more about quantum physics than the game of basketball. Yep. I knew nothing.
Eventually, however, I went on to play for my junior high and high school teams. I'm on the taller side of the spectrum, so most of my playing was done under the hoop, not in the perimeter. I learned the art of rebounding, boxing out and shooting layups. And I did my fair share of fouling. Ahem. Possibly more than my fair share.
Most of the time we played a man-to-man defense, where we each guarded a specific opponent. Occasionally, we played a zone defense. In a zone defense you cover an area instead of a player. Another defensive strategy we used was a press.
Whether we ran a full court press or a half court press, one of the goals was to isolate the opponent with the ball, and trap them with a double team in the corners. We wanted to get all up in their space with intimidation and pressure them into turning over the ball.
In order for an opponent to break the press, she had to have her eyes up and move intentionally to avoid our traps. Psalm 91 reminds me that though my basketball days are behind me, I still have an opponent and face traps every day. Thankfully, I'm also reminded that God is not only on my side, but He's got my back in powerful and personal ways.
"Whoever dwells in the shelter of the Most High
will rest in the shadow of the Almighty.
 I will say of the Lord, "He is my refuge and my fortress,
my God, in whom I trust."
3Surely he will save you
from the fowler's snare
and from the deadly pestilence.
 He will cover you with his feathers,
and under his wings you will find refuge;
his faithfulness will be your shield and rampart.
 You will not fear the terror of night,
nor the arrow that flies by day,
 nor the pestilence that stalks in the darkness,
nor the plague that destroys at midday.
 A thousand may fall at your side,
ten thousand at your right hand,
but it will not come near you"
(Psalm 91:1-7).
The Lord saves (v3), covers (v4), protects (v14) and shelters (v1).
He is a refuge and a fortress (v2), a shield and a rampart (v4).
He commands angels concerning me (v11).
And He does the same for each of His children. For each of us who call on Him (v15), love Him and acknowledge His name (v14).
"Because he loves me," says the Lord, "I will rescue him;
I will protect him, for he acknowledges my name.
 He will call on me, and I will answer him;
I will be with him in trouble,
I will deliver him and honor him"
(Psalm 91:14-15).
These truths of who God is and how He protects His people allow me to breathe in courage and trust Him more.
These truths embolden me to keep moving forward, eyes up, in spite of the resistance or the ways I feel trapped.
These truths assure me that I am not alone, no matter what opponent I face or how loudly he gets all up in my space with intimidation.
These truths shout confidence to my soul. Do you hear it too?
God protects when the enemy presses. He invites you to rest in His shadow and dwell in His shelter.
He saves from snares. Covers and hovers. Holds and shields while arrows fly.
Amazing, right? Go ahead and wave your pompoms now.
Let's Pray
Good and faithful Father, thank You for inviting me into the safety of Your protection and presence. Help me to run to You as my Refuge and Shelter when I'm pressed hard by the enemy. Give me wisdom and insight to keep my eyes up and avoid snares.
In Jesus' Name, Amen.
Now It's Your Turn 
Where are you with this today? Read Psalm 91. Grab your journal and write out a prayer of response.
I'd love to pray for you today or hear how this message spoke to you. Send me a direct message on Instagram.
More from the Girlfriends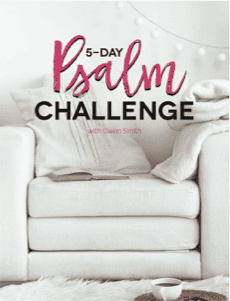 You can commit to five days of Bible Study, right? Reading the Bible helps you know Him better. If you'd like to read and study the Bible, but at your own pace and in your own space, this is the perfect way to get you started!
Get your FREE downloadable 5-Day Psalm Challenge now and enjoy studying the Bible in the comfort of your home, in a time frame that fits with your personal schedule.
© 2021 by Gwen Smith. All rights reserved.