Today's Truth
But as for me, how good it is to be near God! I have made the Sovereign Lord my shel-ter, and I will tell everyone about the wonderful things you do (Psalm 73:28, NLT).
Friend to Friend 
I brushed my teeth but tried not to move. If I did, I might interrupt her.
I'd grown so fond of these moments. My baby girl, quickly gaining her independence, had made a habit of sitting on my feet. It might be while I cooked dinner or when I stood over the counter to consult my day planner or even sometimes while I brushed my teeth in the morning. What I was doing didn't really matter to her. She just sought me out and settled in, right on top of my feet. Out of all my six children, she was the only to ever do anything like this. And I treasured every moment.
In today's truth, the psalmist expresses how good it is when he is near God: "But as for me, how good it is to be near God! I have made the Sovereign Lord my shelter, and I will tell everyone about the wonderful things you do." (Psalm 73:28, NLT)
Like the psalmist at the Lord's feet, my daughter placed herself at my feet because she decided it was good to be near Mom. When she drew near to me three things happened.
She knew she was in my will. She could be so confident that she was doing what pleased me for a few reasons. First, I could see her. Her actions were exposed in plain sight before me, so she knew if I disapproved, she would hear about it. But also, she could hear my voice. She was close enough to absorb everything I said. She was not only sure of her present actions, but she was also learning for her future, too.
Next, she enjoyed fellowship with me. Positioned at my feet, my daughter enjoyed everything I was doing. If I laughed, she could laugh too. If I sang, she could rock to the melody. If I was cooking, she sniffed in the smells. Being that close allowed her access to everything I did. She didn't miss a thing.
Finally, she knew when I moved. And when I moved, my daughter moved. She didn't want to lose that intimacy and connection. It was too important to her. By staying right at my feet, she always knew where I was.
My daughter boldly positioned herself near me because she didn't want to do life without me. She didn't worry that I was too busy or wonder if I'd care or notice. She is my child, and that gave her permission to perch on my feet anytime, anywhere.
Today, we can decide we want that kind of connection to God. Through Jesus, God extends to us direct access to His throne. That we may find Him, know Him, and enjoy Him. Jesus' nail-pierced feet eagerly wait to be our seat — our place to find the confidence to know in His will, access to enjoy His fellowship, and intimacy to walk with Him step by step.
No matter where we are, we can be at Jesus' feet. God offers us the gift of His continual presence through the Holy Spirit. When we remain in Christ, He teaches us to walk as He walked; and as we walk with Him we experience rest and complete satisfaction that can only be found in His presence. (Matthew 11:28-30)
John 15:1-17 tells us it's not a closeness saved for Sunday. It's not a closeness unattainable in the chaos. It's not a closeness reserved only for some. Instead, we can abide daily in Jesus and His love. Crawl on up on His feet today. I imagine He'll smile when you do.
Let's Pray 
Dear Lord, I want to reflect Your presence. Thank You for sending Jesus so that I may draw near to You and be transformed by Your presence. Help me to be mindful of Your presence and walk in step with Your Spirit.
In Jesus' Name, Amen.
Now It's Your Turn  
What keeps you from positioning yourself at the feet of Jesus?
What is one thing you can do today to make time to sit at Jesus' feet and enjoy His presence?
More from the Girlfriends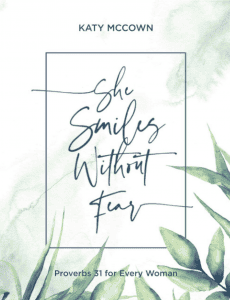 Katy's new Bible study, She Smiles without Fear: Proverbs 31 for Every Woman, walks you through a step-by-step process to help you look forward to the future with joy. Ordr your copy today and trade your fear of the future for purpose in the present.
© 2021 by Katy McCown. All rights reserved.