Today's Truth
Find rest, O my soul, in God alone; my hope comes from him (Psalm 62:5, NIV 1984).
Friend to Friend
I don't know if you're  a Star Wars fan or not, but my kids certainly are. I've spent many nights hunkered down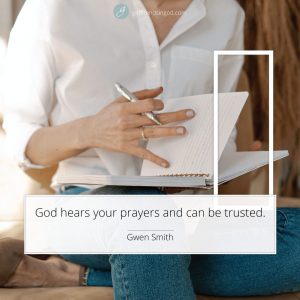 watching lightsabers save the day.
There's a scene in Star Wars Episode IV – A New Hope – where Princess Leia, Han, Chewbacca, and Luke found themselves on the detention level of the Death Star in a trash compactor whose walls were closing in quickly.
Their efforts to slow the walls down were ineffective.
Leia and Han tried every way conceivable to brace the walls with something to stop the progression of imminent death. Chewbacca tried to use brute force. Steel poles were snapped like toothpicks as Luke desperately called out to C3PO on his com-link to shut the system down.
Meanwhile, in another area of the Death Star, C3PO thought that Storm Troopers might have captured the crew, but he couldn't hear Luke's cries because he had forgotten to turn on his com device. He asked R2D2 to look for the missing friends and began to search for and call out to Skywalker.
Just seconds before the heroes became pancakes, squeaky little R2D2 reminded C3PO to connect with Luke via his com link.
Thank you!
As soon as C3PO turned on his com device, he heard Luke's cries for help and shut down the trash compactor, saving the four panicked good guys.
They all took a deep breath, hugged one another then looked for a way out. And then the next scene began. Just like that. Crisis averted. All was well.
If only life were so simple!
I'll be honest with you: sometimes I feel like I'm in that trash compactor with the walls closing in, fighting tooth and nail to experience that all-is-well peace.
The walls of life can press in hard. Earthly aches are real and groanings are raw. Under the weight of it all, I'm thankful for what I know of God. For what I know of His power.
I know that God is present in the middle of every strain. He's right beside us and right beside the loved ones we're praying for.
I know that He's more than able to handle complicated challenges, and that the Lord faithfully provides the grace needed for each broken moment.
I also know that without the Lord's strength we crumble. Without His presence we panic. Without His Spirit we wander, wonder and wane. When David was in duress, he often spoke to himself in the Psalms. I love that…because I do it too sometimes.
"Find rest, O my soul, in God alone; my hope comes from him" (Psalm 62:5).
No matter what you and I face, we never face it alone. Soul-rest can be found when we look to Jesus as our hope. I love the way The Message paraphrases the encouraging verses of Ephesians 3:20. "God can do anything, you know—far more than you could ever imagine or guess or request in your wildest dreams! He does it not by pushing us around but by working within us, his Spirit deeply and gently within us."
There's power in prayer, power in the nearness of God, power in the pouring out of emotions, and power in the picking up of His Word. God's Word speaks strength to wilted souls. "My flesh and my heart may fail, but God is the strength of my heart and my portion forever" (Psalm 73:26 NIV).
Press into the Word when the walls of life press in on you, friend.
Press into prayer – even when it is hard to pray. Even when your prayers seem to go unanswered…or when you receive a different answer than the one you wanted.
God hears your prayers and can be trusted.
When we press past the pain in prayer, when we press into Jesus, grace flows directly from the Living Water to our parched and thirsty places. Peace sutures bleeding hearts and holds them tenderly until they heal. Agony is attended to by the One who knows the wrenching sting of pain, betrayal, and loss. By the One who understands. The compassionate One who reaches for the trembling hands of a struggler, picks her up, and carries her to a place of rest, wholeness, and healing. By the One who fights for His child when she is too weary and worn to engage in the battle. (Exodus 14:14)
Though walls press in, God is able and available to work within – deeply and gently – with a grace that gives strength and is sufficient for your every need.
Remember His hope today.
Let's Pray
Dear Lord, I choose to trust You with the pains and strains that are weighing heavy on my heart today. Thanks for being faithful, loving, and strong.
In Jesus' Name, Amen.
Now It's Your Turn 
What do you need to trust God with today?
Read Habakkuk 3:2, 17-19, then pray responsively.
More from the Girlfriends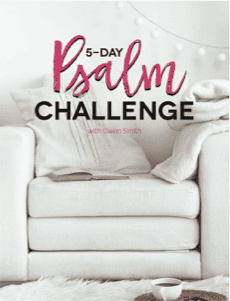 Need help finding rest and hope in the thick of your trials? Reading the Bible helps you know and trust God more. If you'd like to read and study the Bible, but at your own pace and in your own space, this is the perfect way to get you started!
Get your FREE downloadable 5-Day Psalm Challenge now and enjoy studying the Bible in the comfort of your home, in a time frame that fits with your personal schedule. 
© 2021 by Gwen Smith. All rights reserved.